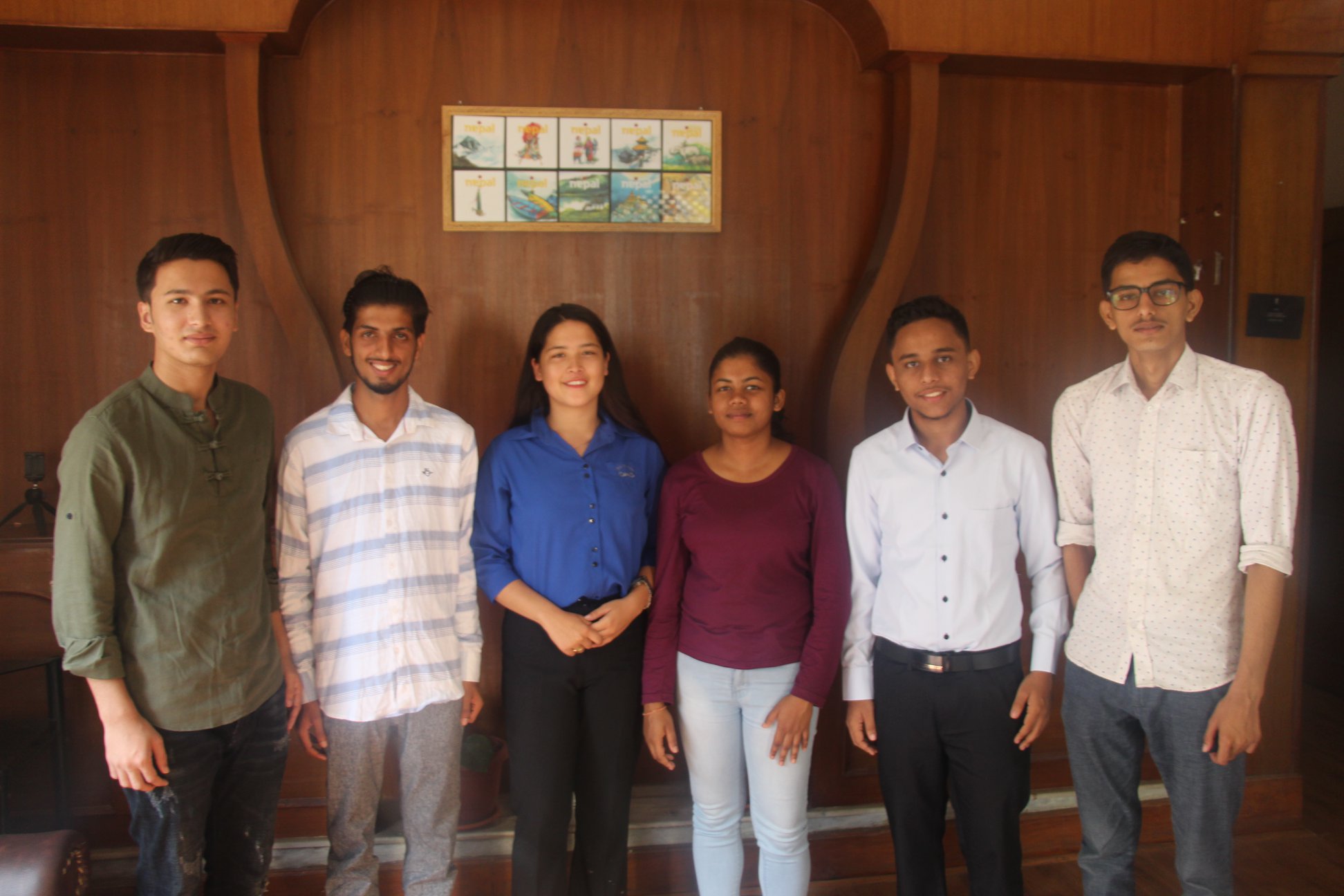 With the motive to provide a learning opportunity, foster networking's and boost personal growth, Glocal Pvt. Ltd provided a 4 days 'Self Competency Development workshop' for the Top Six Finalists of Wai Wai Glocal Teen Hero, 2019 from 27th to 30th August 2019.
Every year workshop is created to the finalist of Glocal Teen Hero. The Finalist were able to develop their both personal and professional growth through networking's and knowledge from inspirational personalities from Nepal. The finalist were taken to different corporate visit and organization with active interaction and training on different topics.
The first day of "Self- Competency Development Workshop" embarked with the field visit at Wai Wai Factory, Bhaisepati. The Finalists got an opportunity to know about the manufacture and process of Wai Wai noodles. As Wai Wai is the international brand of instant noodles produced in Nepal.
Next, an hour "Leadership Session" was set to the Finalist. In the session, Mr. Ajay Pandey interacted and provided guidelines on "Goals Setting and ways to lead yourself". The workshop continued with another visit at AYON, where the finalist learned about "Local Governance" and "Importance on Youth's Voting". Knowledge of politics is also equally important as other academics to shape the country in a positive way.
Lastly, the session wrapped up with the individual interview of Finalist by Annapurna
the knowledge about leadership, the importance of team and networking's.
The second day of "Self – Competency Development Workshop" for Finalist kicked off with field visit at Coca – Cola Nepal, Balaju which is leading brand in the world. The finalist got to know about the procedure and commercial activity of Coca-Cola which helped them to get clear knowledge on trading activity.
The next session carried with "Leadership Training" at Yuwa to sharpen their personal growth through networking's and interaction. Lastly, the workshop followed with the corporate visit at Chaudhary Group. Finalist got an opportunity to interact with Mr. Nirvana Chaudhary (Managing Director of Chaudhary Group) and CG Foundation Team.
The visit and interaction have made them finalist to understand clearly about the scope of an entrepreneur in Nepal and has motivated to set the goals. The Finalist was enlightened in different topics to boost up their ideas and get clear knowledge on numerous concepts.
The third day of "Self-Competency Development Workshop" commenced with a corporate visit at Worldlink office, Jawalakhel, where they learned about wide range networkings of the internet.
The workshop continued with an interactive session with the Ambassador of H.E Mr. Manjeev Singh Puri at Embassy of India and H.E Sh Al Naabi of at Embassy of UAE. The interaction and networking's have made finalist more confident and believe in own self.
Next, the interactive meetup session was set with Mr. Asish Thakur (Executive Director of Glocal Pvt Ltd.) where they had a fruitful sharing session to make their project impactful and relevant.
The next corporate tour was carried in Turkish Airlines and continued with a short interactive session with Mr. Abdullah Tuncer Kececi (General Manager of Turkish Airlines). The session ended with the interview of Finalist at "Youth Dialogue" of Glocal Khabar which is an online news portal.
The fourth day of "Self-Competency Development Workshop" began with a video interview of GTH finalist on News 24 channel. They talked about their initiation and their works followed up with the experience sharing.
After that, they visited E-Sewa as a corporate visit and understood various aspects of the digital platform, online transactions and banking and so on.
And further next corporate tour was carried in Nepal SBI Bank and they had interesting interaction with the CEO, Mr. Anukool Bhatnakar. Later, they had an organization visit at the United Nations Development Programme (UNDP) and interaction was held with Mr. Bernado Cocco, Deputy Resident Representative at UNDP.